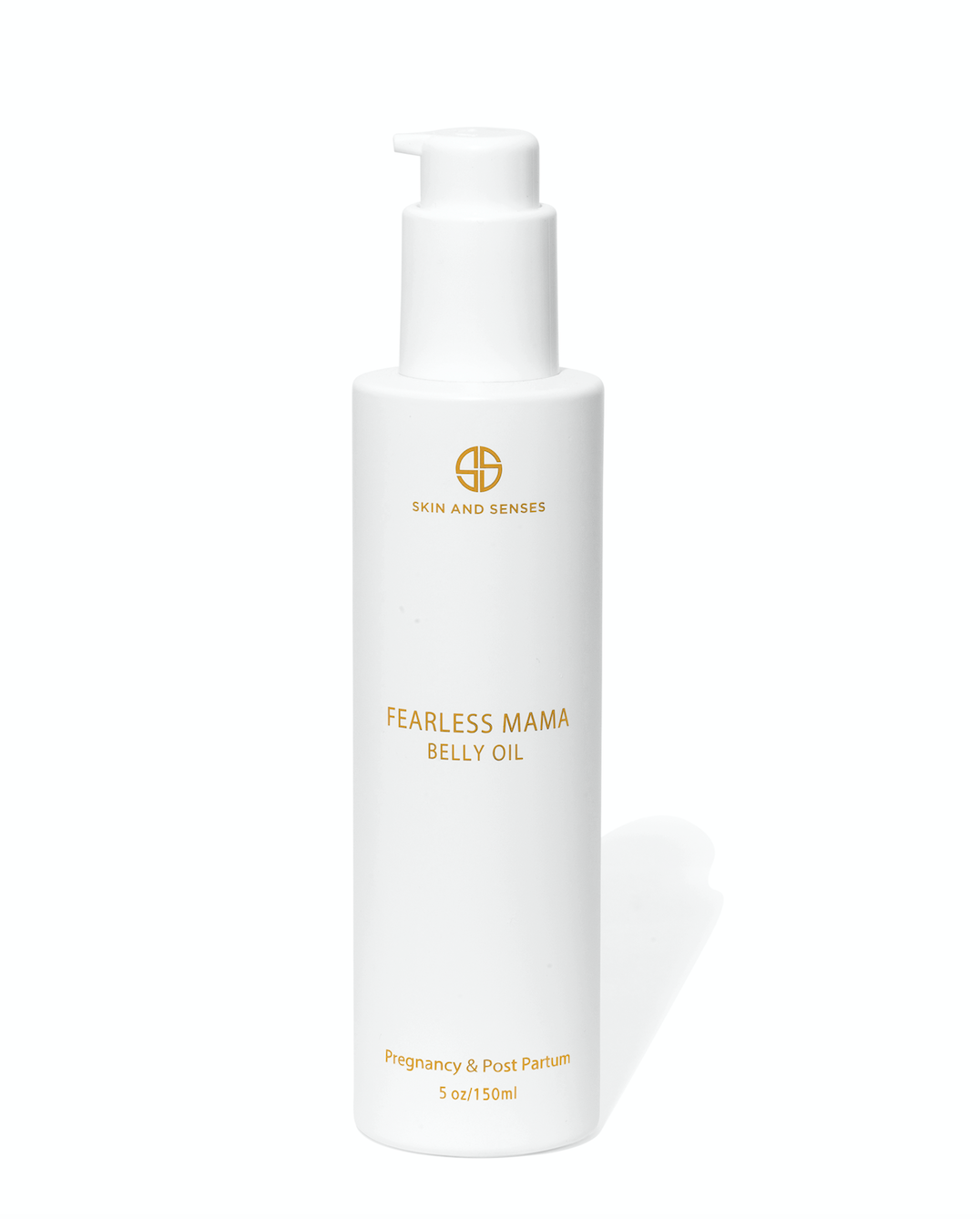 Fearless Mama Belly Oil - Help Prevent Stretch Marks + Smoothing Therapy
NO WATER
+ 
NO FILLERS + VEGAN + CRUELTY-FREE + 
PHTHALATE FREE
Fearless Mama Belly Oil is an all natural body oil for stretch mark prevention and skin hydration for dry and itchy skin. It supports skin as it stretches during pregnancy and beyond. Formulated with all natural plant based superfood actives to deliver results you can see and feel. 
It has vitamin E as an antimicrobial and is so pure that it soaks into the skin quickly. All natural ingredients show anti- inflammatory properties, promote hydration, promote skin elasticity, fade scars, nourish and revitalize your skin.
Fearless Mama Belly Oil provides nutrient-rich moisture without a greasy feel. This fast absorbing quick dry oil nourishes and helps to strengthen your skin. Antioxidant-rich & delivers a subtle citrusy scent.
We chose ingredients that will not only moisturize the top layer of skin but also soak in deep and penetrate beneath for long lasting extreme moisture. Our ingredients were chosen to help prep your skin for stretching, healing and protecting before, during and after pregnancy. 
Continue using after pregnancy for the snap back! It's important to continue use while the skin is shrinking back to its normal size to avoid stretch marks. Specifically for the belly and breasts. 
The more your skin is hydrated, the less it is prone to stretch marks or dry itchy skin. For extra hydration pair with our Fearless Mama Belly Butter.  
Additional Info:



Soaks into skin instantly to replenish vital moisture


Quick-dry formula leaves you clothing ready

Formulated without parabens, phthalates, dyes, & fragrance

After childbirth, continue using to aid in the rebound of your body

Who it's for: All skin types


5 oz

Made in USA.

 
Suggested Usage:



Apply twice daily to belly, breasts, buttocks and all areas of the body you want to help prevent stretch marks and keep hydrated. Gently massage in a circular motion until fully absorbed. Continue use after birth for best results.
Ingredients:
Coconut Oil, Sunflower Oil, Argan Oil, Olive Fruit Oil, Shea Oil, Watermelon Seed Oil, Chia Seed Oil, Vitamin e, Grapefruit Peel Oil, Lemon Peel Oil 
Skin and Senses products are made with all natural ingredients, we suggest checking the ingredient list before use to ensure you do not have any known allergies to the ingredients.
Ingredients are subject to change at the manufacturer's discretion. For the most complete and up-to-date list of ingredients, refer to the product packaging.